This week we were reached by the news of the passing of our beloved co-worker at Hope in Action Goma. After a long battle against her disease she spent her final moments in life next to her close ones. Jeannette will be dearly missed. Few people has been as vital in their work against the horrible forces of the war as "Mama Jeannette". In a movie about her she was referred to as "Mother of a thousands" together with her ally/close friend Mama Jeanne. A title well deserved by her. For the past decades, thousands of wounded women and children has been cared for by Jeannette and her team, and given the care needed to heal after the most gruesome crimes.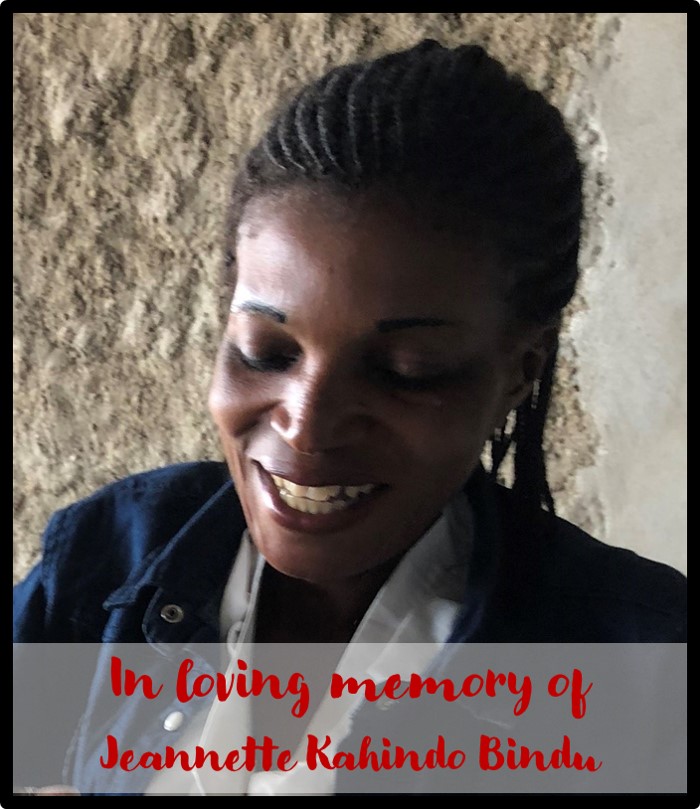 Jeannette was one of the bravest women I have had the pleasure to meet. Behind her gentle personality and captivating laughter, was a strong women. She had a force and passion that put her in the most terrifying rebellions, saving victims that would not be helped by anyone else if not her. She was known by all and when she was captivated by a rebel force, the whole village came together and stood up to the leader demanding her release. Later when asked if she was not scared she said -"Of course, I thought I would have been the next victim of rape, I wasn't even sure I would survive."
At the book launch of 'Women carry half the sky', she was asked why she exposed herself to such danger all the time. To which she replied "I do it for my sisters, and as long as it is needed, I'll do it again!". Making the whole congregation give her standing ovations. Those who had met Jeannette knew that she could fight, like a lion.
Jeannette started helping out at her mother Mamma Jeanne's orphanage at an early age. When the conflict broke out, many children found themselves in the middle of the war. Jeannette worked there until 2003/2004 when then CRN (Christian Relief Network, now Join-Norway) together with CEPAC and Hope in Action started a project aiming to care for victims of rape in the North Kivu province in Congo. At its peak, the project had 12 centres in the rural parts around the large district. Jeanne and Jeannette managed the centres and its 45 employees. In Goma, emergency hospitals where built in old field hospitals. This was before the Kyeshero hospital was built.
When the intensity of the war increased, two bigger centres were built in Goma, the so called Lydia centres. Here women who had been victims of rape and their children could come to get the medical and special care they needed and be able to rest, be medically treated as well as come back for after care. Up until her passing, Jeannette was in charge of one of the centres and worked like a Mother Theresa for the vulnerable.
In 2015 Jeannette was nominated to the Nobel Peace prize together with Jeanne and Dr Mukwege. She is one of the few the world has acknowledge for an outstanding life's work.
In 2007, Hope in Action was founded and came to be an umbrella organisation for the different aid projects. Administration and support are since then available to make it easier to provide the needed aid to the war zones and to work on separate projects and programmes. Mama Jeannette was one of the pillars of Hope in Action and will be missed dearly. At the same time she leaves behind a legacy, of being one of the role models of hope in one of the world's most intense conflicts. She set the standard for how you can, and should, treat and care for the wounded, but also how we must fight for their right back into society and life. No one can never replace her, but her work and legacy will go on.
Jeannette was secure in her faith for her God and saviour, and we are grateful to have been able to follow her for so many years. She leaves behind her husband and seven children, the youngest as young as five.
Tutaonana Mbinguni
Tina Björkdahl Andersson
Hope in Action